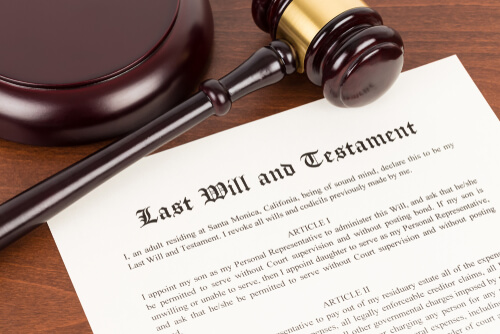 A last will and testament is a fundamental part of an estate plan. Your will expresses your directions for how your property will be managed and distributed upon your death. Although a properly executed will is usually enforced, your will may be contested by heirs or other parties asserting that it is legally deficient or does not state your true intentions. Will contests can be lengthy and expensive, so taking measures to avoid them is an important aspect of estate planning. While nothing can stop a determined challenger from going to court, there are ways of making your will resistant to such attacks.
The most common grounds for contests are alleged defects in a will's execution or in its provisions. A challenger may claim any of the following:
Noncompliance with the law — The person making the will (known as the testator) did not sign it in the presence of two witnesses and/or the witnesses did not attest to the signing.
Incapacity — The testator did not have sufficient mental facility to make a will.
Fraud — The testator was tricked into signing the will and was unaware of its contents.
Undue influence— The testator was manipulated into signing the will by a person they trusted.
Counterfeiting — The will is a forgery.
Vague or confusing terms — The will's provisions are ambiguous, conflicting or impossible to carry out.
The first priority in making a will is to be sure it is written precisely and comprehensively. The will should be clear and specific as to what each beneficiary is intended to receive — avoiding language that merely expresses hopes or wishes. There should also be provisions for alternate beneficiaries in case any beneficiary fails to survive the testator or is otherwise unable to accept the bequest. No beneficiaries or family members should be involved in the writing of the will. Everything should be handled by professionals who have no interest in the estate.
A testator should also take special care that the will is executed properly, which means it is signed knowingly, freely and without undue influence. Videotaping the will's execution is one way to document its propriety. This is especially important if a close family member has been excluded from inheritance.
Some wills include "no contest" clauses, which are designed to penalize anyone who challenges the will by providing that the challenger forfeits receiving any property from the estate. However, an Arizona statute prevents a court from enforcing a no contest clause if the court finds probable cause for invalidating or modifying the terms of the will. Consult with an attorney knowledgeable about Arizona will contests for further information on the validity of these clauses.
Pennington Law, PLLC is one of Arizona's premier estate planning law firms, with wide experience in crafting effective wills. We have offices in Surprise, Sun City West, Buckeye and Peoria and we serve clients across the state. Feel free to contact us online or call 623-208-7867 for an initial consultation.